NAMI Connection is a recovery support group program for adults living with mental illness that is expanding in communities throughout the country. These groups provide a place that offers respect, understanding, encouragement, and hope.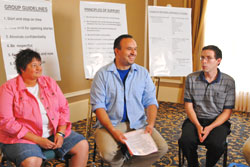 NAMI Connection groups offer a casual and relaxed approach to sharing the challenges and successes of coping with mental illness. Each group:
Meets weekly for 90 minutes
Is offered free of charge
Follows a flexible structure without an educational format
Does not recommend or endorse any medications or other medical therapies
All groups are confidential – participants can share as much or as little personal information as they wish.
Meetings will be guided by NAMI Connection's Principles of Support.
NAMI Connection is supported by AstraZeneca.
Who can attend a NAMI Connection Recovery Support Group?
Support groups are open to all adults with mental illness, regardless of diagnosis. Participants should feel welcome to drop by and share feelings, difficulties, or successes.
Everyone is a valued participant.
How do I find out more?
Download the NAMI Connection brochure.
Who can I contact for more information?
Phone: 1-800-950-NAMI (6264)
Email: connection@nami.org
How can I become a NAMI Connection "Champion?"
Visit the support group listing for information on NAMI affiliates and state organizations that are or will soon offer the program. Contact them directly and let them know you are interested in being a NAMI Connection Champion.
How can I find a class in my area?
To find out where the NAMI Connection programs are currently being offered in Michigan, please contact the NAMI Michigan main office in Lansing at 517-485-4049 or send an email to info@namimi.org. You can also fill out a request to have someone from NAMI Michigan reach out to you on our Contact NAMI page. You can indicate your interest in the NAMI Connection Education program on the form.
You can also review a listing of all of the NAMI Michigan affiliates maintained at the national NAMI site.